Marmaris - Off the Beaten Track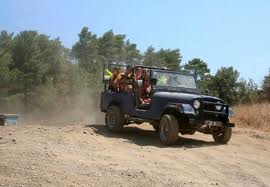 Off the Beaten Track in Marmaris
We all appreciate the comforts of a modern hotel, a great choice of restaurants and bars, and a beach that has visitor facilities, yet once in a while it's really nice to get away from all that and find a secluded spot where you can relax away from the crowds.
Luckily, Turkey's Aegean Coast has many such places including secluded bays and beaches, and small villages where you can enjoy an excellent meal in the company of locals. Experience the real Turkey while you're on holiday in Marmaris!
Where to Go
If you rent a car you have the freedom to explore many of the smaller villages in the area surrounding Marmaris. There's miles upon miles of coast here as well, so plenty of places that are off the beaten track for you to discover. Our Marmaris Driving Tour gives details of some of the places you might like to consider visiting by car.
With so many inlets and bays the Aegean Coast is actually best explored by boat. If you can charter your own boat you're free to ride the waves and find all those beautifully picturesque bays that this part of Turkey is so famous for. But don't worry if this is beyond you – there are boat tour excursions available that will take you to some of these scenic places too, giving you the opportunity to swim and admire the coastal landscapes while someone else does the hard work! Boat tours are something that we highly recommend as an excursion when you're on holiday in Marmaris, and they're great for visitors of all ages.