Marmaris Accommodation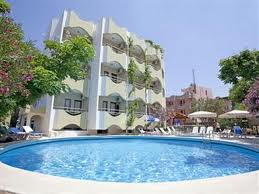 Marmaris – Accommodation Options
Once a sleepy little fishing village, Marmaris has seen plenty of growth over the last couple of decades as visitors from Europe and around the world have come to appreciate this beautiful slice of Turkey's Aegean Coast. Many come to take advantage of the great weather and the wonderful scenery, and with so many hotels in Marmaris to choose from there is something here to suit everyone.
Hotels in Marmaris
As you would expect, Marmaris hotels come in all shapes and sizes and cover a range of star ratings. From the more basic Marmaris accommodation options for those who want a bed to lie on and not much else, to the luxurious, top of the range hotels where you have a very broad range of facilities and services. Of course there are those that lie in between as well, perhaps providing a swimming pool and a breakfast room, allowing guests to make use of the many lively bars and excellent restaurants that can be found around the city.
Type of Board Available in Marmaris
Hotels in Marmaris also offer a selection of different board options allowing visitors to choose the one that best suits their needs. Apartments in Marmaris, or apart-hotels, are a popular choice for a multitude of reasons. The basic kitchen facilities mean you can shop in the local supermarket and cook some of your own meals. If you're on a tighter budget this is often a great choice as you don't have to spend money eating out.
In a hotel in Marmaris you might go for the room only option, which is exactly as it sounds – no meals included. This gives you the freedom to eat in the hotel's own restaurant (if there is one), or to try out the many restaurants that line the streets of Marmaris.
Another option is room and breakfast, allowing you to enjoy a tasty Turkish breakfast before spending a day relaxing on the beach or sightseeing. Half board and full board are two other options. Half board provides breakfast and dinner at the hotel, while full board provides three meals a day. For the ultra in convenience there are also some hotels in Marmaris that offer all-inclusive packages, so all your meals and most drinks are included in the price.
Where to Stay in Marmaris
Marmaris has grown into a sizable seaside town so there are different parts of the town you can choose to stay in, depending on what you want to do while on holiday in Marmaris.
The town centre is the liveliest part, so a great place to stay if you want to make use of the bars and clubs, but not so good if you want a peaceful and quiet night's sleep. Hotels here tend to be more basic as well.
In the Uzunyali Beach area to the west of the town centre there are some very luxurious, and/or all-inclusive places to stay, such as the Grand Azur, while to the east side of Marmaris the smaller and quieter hotels are preferred by guests who want to enjoy the beautiful forest-fringed beach.