Night Life in Marmaris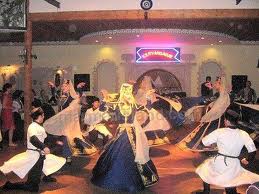 Nightlife in Marmaris
Marmaris has so much to offer as a holiday destination though one thing it's well known for is its party atmosphere! This is probably the Aegean Coast's top holiday resort town if you're looking for somewhere that you can kick off your shoes and have a really fun time, night after night.
Where is the Best Nightlife in Marmaris?
Well the answer to this probably depends on what kind of nightlife you're looking for! After all, Marmaris does have a good selection of bars and clubs, and they're not just limited to one part of the city, or to one or two tastes. There are some famous areas, like the aptly named Bar Street, but you shouldn't forget to look for that famous Marmaris party atmosphere in other parts of the town too! As a guide, here's a quick breakdown on what you'll find where…
Bar Street Nightlife
Starting with the most famous – this street is jam packed with bars, pubs and clubs of all varieties, so if you enjoy a pub crawl this is the ideal place to do it! With so many to choose from you'll be hard pushed to find a favourite, but one of the most popular and largest is Crazy Daisy Bar and Night Club, with a capacity of 1300.
Long Beach Nightlife
Long Beach, or Uzunyali, is popular too, but the atmosphere is a little different here. You'll find this is one of the most fun places to spend a night or more when on holiday in Marmaris, featuring karaoke bars, sports bars, dance bars and more. Again, there should be something here for everyone, but being situated right on the beach gives this part of Marmaris a more laid-back atmosphere.
Armutalan Nightlife
Over at the west end of Marmaris is Armutalan. This may not be the town centre but that doesn't mean it's any less vibrant here! There's a great selection of theme bars in Armutalan, plus you can enjoy some traditional Turkish entertainment at the Turkish Night Show – an evening not to be missed on your Marmaris holiday!
Marmaris Marina Nightlife
Not quite as buzzing as other parts of Marmaris, the Marina appeals to the more refined tourists looking for a great evening meal followed by some drinks in a bar overlooking the harbour and marina. It's the perfect setting for an unforgettable night, but without some of the larger crowds found in Bar Street.
Family Friendly Nightlife in Marmaris
Though Marmaris does have a strong reputation for its nightlife this shouldn't put families and older couples of off visiting this lovely town. If dancing the night away in a crowded and noisy club is not your thing, there are plenty of quieter spots to enjoy while on holiday in Marmaris where you can relax over a couple of drinks and take an evening stroll. And if your hotel is not right in the centre of town you don't have to worry about noise levels as bars and discos in hotels usually wind down a lot earlier than the bars and clubs in the centre of town.